First Turntable Test
October 7, 2007
Photos by Mike Morgan
---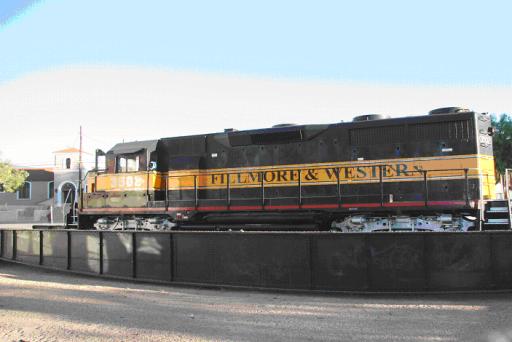 THE FIRST TEST TURN OF THE SCRVRHS TURNTABLE CONDUCTED ON OCTOBER 7, 2007
The above picture depicts the first use of the Santa Clara River Valley Railroad Historical Society's (SCRVRHS) RR turntable using Fillmore & Western's #3502 EMD (General Motor's Electro Motive Division) diesel-electric locomotive. The test was conducted on a Sunday morning, October 7, 2007, to prepare the #3502 for the Pumpkin Patch and Piru runs. The test proved the turntable operation to be satisfactory with the exception of slight scraping of a small portion of the turntable concrete ring. The problem was rectified, and the engine was rotated 180 degrees. The purpose of the rotation was to put the locomotive cab (short hood) forward for the runs to the Pumpkin Patch and Piru for reasons of safety.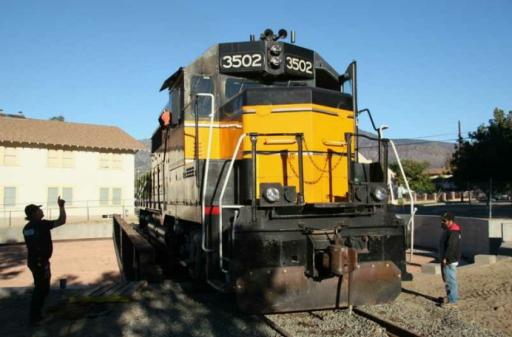 F&WRR 3502 LOCOMOTIVE EXITING THE SCRVRHS TURNTABLE AFTER THE FIRST TEST TURN

This picture depicts the F&W #3502 locomotive exiting the SCRVRHS turntable after a 180 degree turn. The trial run was successful, with the turntable base able to handle the requisite loading. The locomotive was put back on the main line, ready for the Pumpkin Patch and Piru runs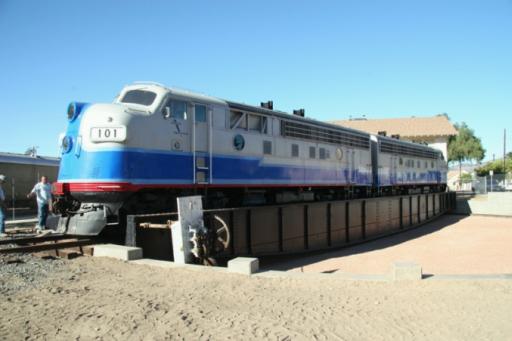 FILLMORE & WESTERN'S EMD F-7 LOCOMOTIVES (100 & 101) BEING POSITIONED ON SCRVRHS TURNTABLE

Two of Fillmore & Western's diesel-electric locomotives were placed on the SCRVRHS turntable to enable the Society to take documentary photographs. The turntable passed all of its load and fit tests and will be ready for everyday operation, once the electrical power system is completed.